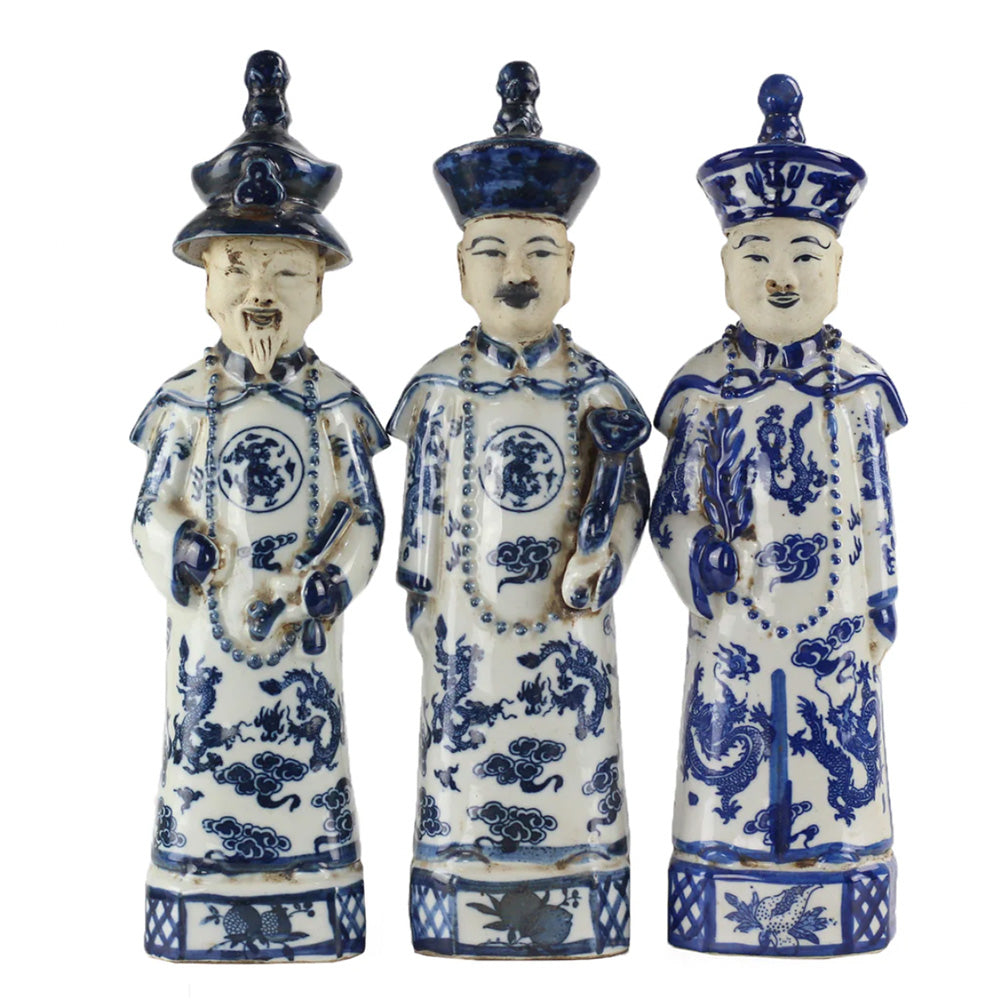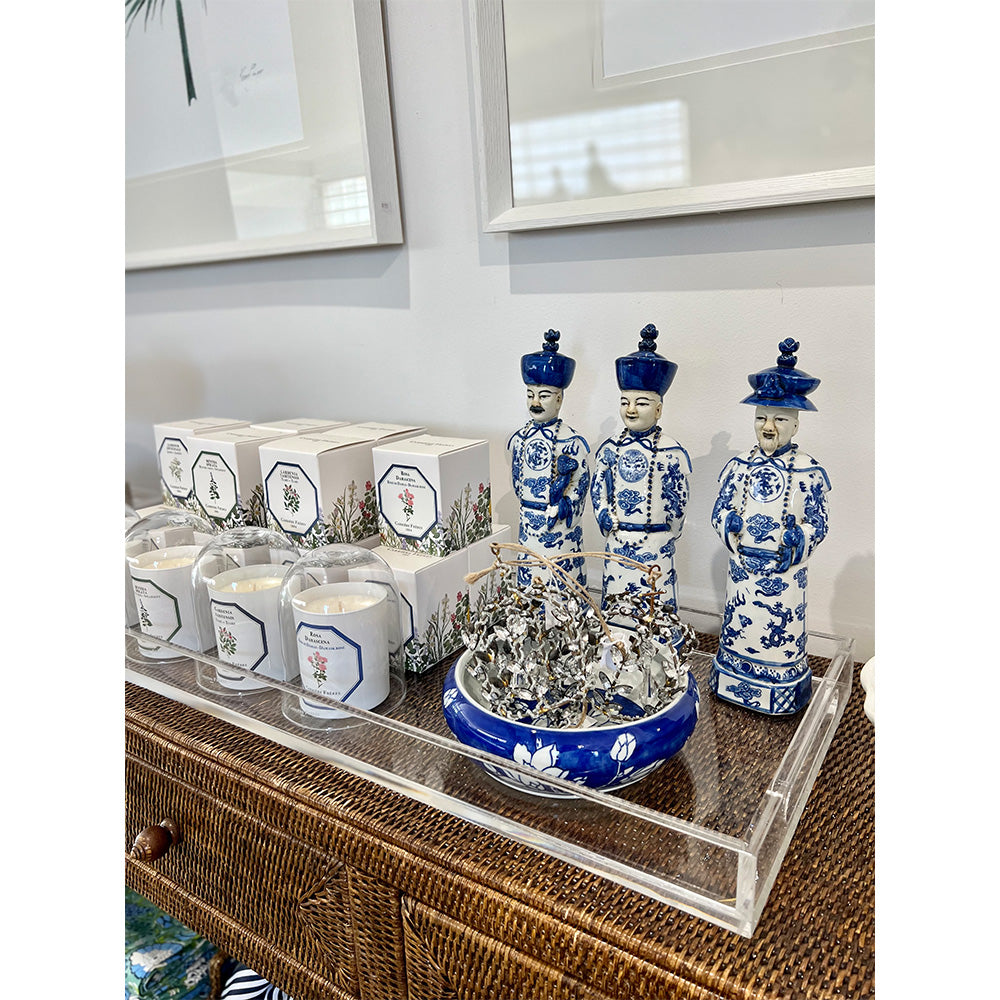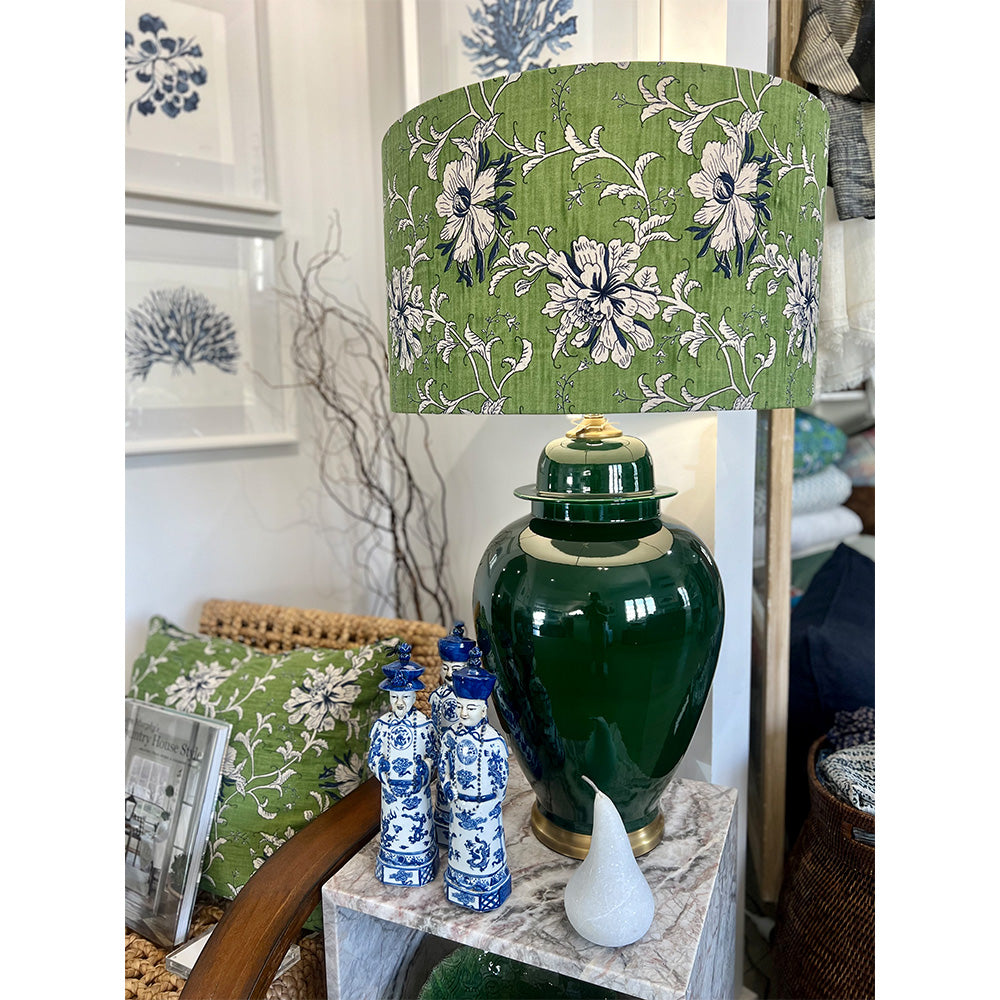 Trio of Vintage Porcelain Blue & White Qing Emperors Chinoiserie
Trio of Vintage Porcelain Blue & White Qing Emperors Chinoiserie
These detailed blue and white porcelain statuettes represent three generations of the most popular emperors in Chinese history. The oldest of the three Qing (1644-1912) emperors, Kangxi (reigning 1662-1722), reestablished peace by adopting much of the Ming bureaucratic structure and espousing Confucian ideals of government, ushering in an era of reconstruction. His son Yongzheng (reigning 1723-35) completed the institutional restructuring of the Qing state, but it was under Kangxi's grandson, Qianlong (reigning 1736-95), that the empire reached the height of its power.

Material:  Porcelain, handpainted in blue & white glaze with an antique patina finish.
Size:  Each statuette measures 7 x 7 x 28cm
Weight:  0.5kg each
Availability:  In stock
Price:  $145 each (one with beard on left end has been sold)
Shipping:  In stock items available to ship within 1 week.
---
Trio of Vintage Porcelain Blue & White Qing Emperors Chinoiserie
FAQ
Frequently asked question
GIFT CARDS are the perfect solution when you just can't find the right gift or you're short of time!

Rachel Elizabeth Interiors Gift Cards can be redeemed in-store & online!

Frequently asked question
DO YOU OFFER DESIGN SERVICES? We offer a variety of bespoke interior services no matter your project size. Whether you are furnishing a room, redecorating an entire home or simply want help selecting a wallpaper, Rachel Elizabeth Interiors and Textiles can help create an environment you will love. Please contact us for further information regarding these services.
Frequently asked question
BLOCK PRINTED Please note, there may be slight variations in the colour and size as all products are hand printed and made with natural dyes. This is not considered a fault as all pieces are handmade.
Frequently asked question
WHAT IF I SAW AN ITEM IN STORE BUT CAN'T FIND IT ONLINE, HOW CAN I PURCHASE IT? If you cannot find an item online, please call us on 0422 291 621.
Shipping
Fast shipping
Goods will be shipped using Australia Post. Orders placed before 11am will be shipped that day and all other orders normally sent the next business day. 
Order tracking
All orders will be sent via registered post with a tracking number. 
Get in touch
Still have questions?
We are here to help!

Contact Us
About us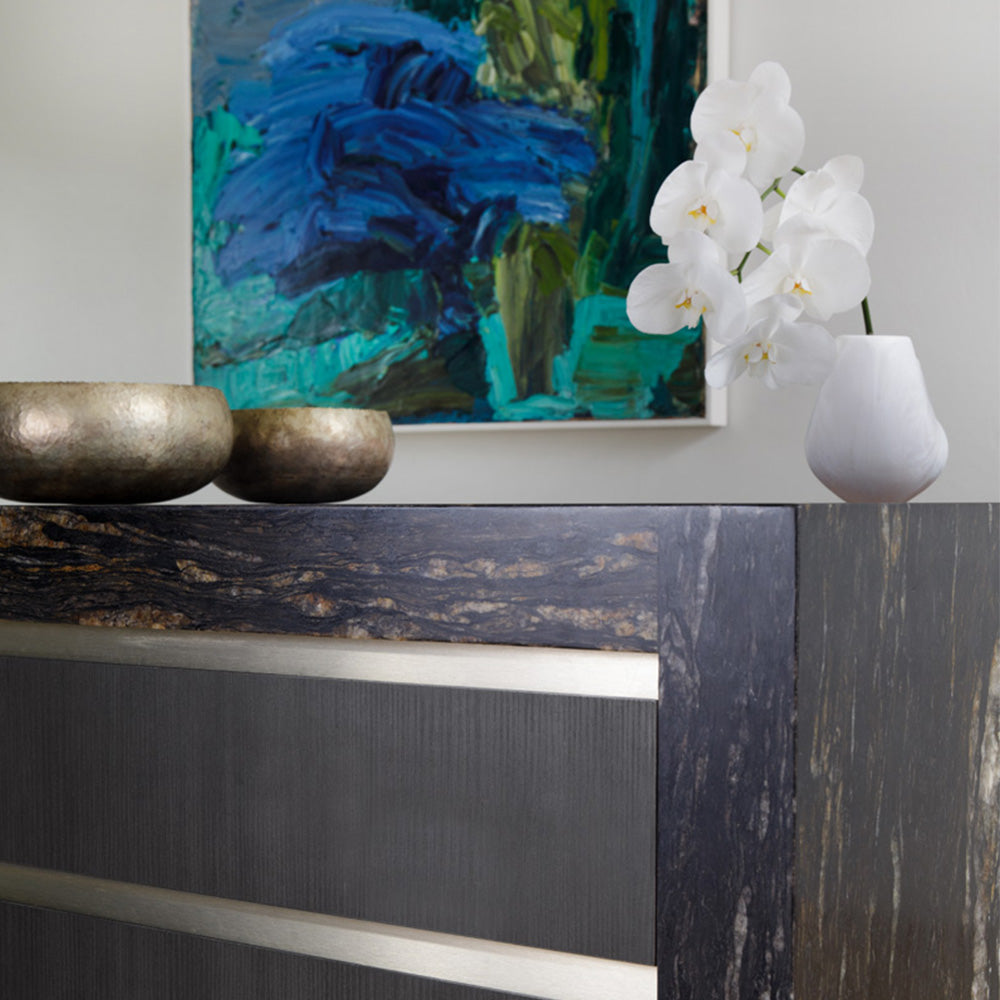 The Studio
Rachel Elizabeth Interiors specialises in bespoke styling, and creating eclectic yet refined spaces.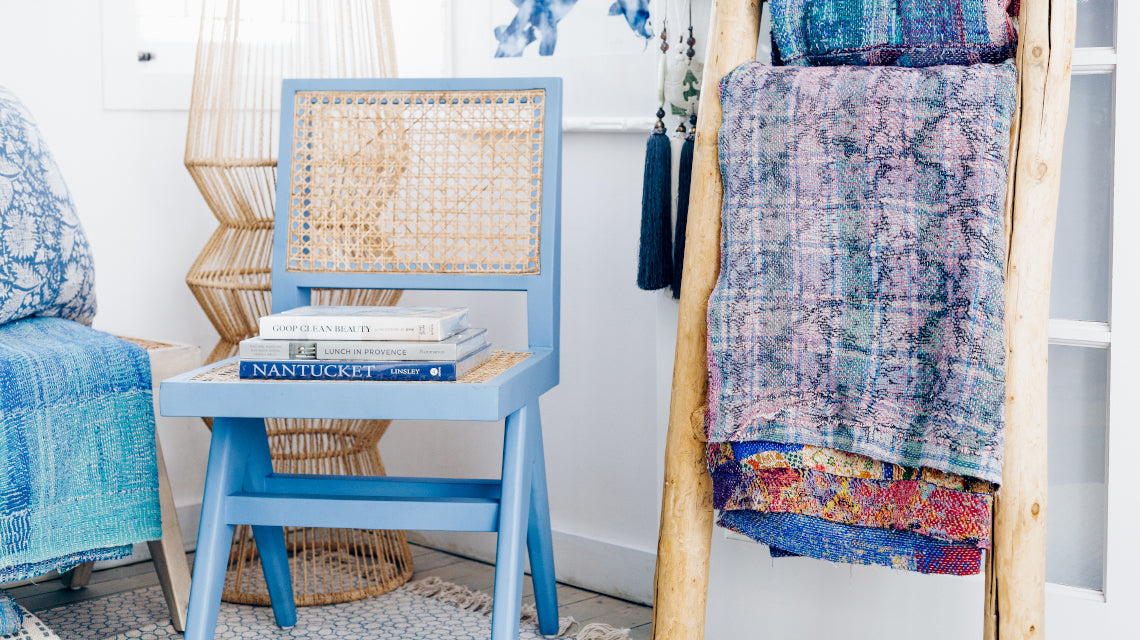 The Store
Our boutique stocks a curated range of timeless, handcrafted homewares, one-of-a-kind pieces, and unique gifts.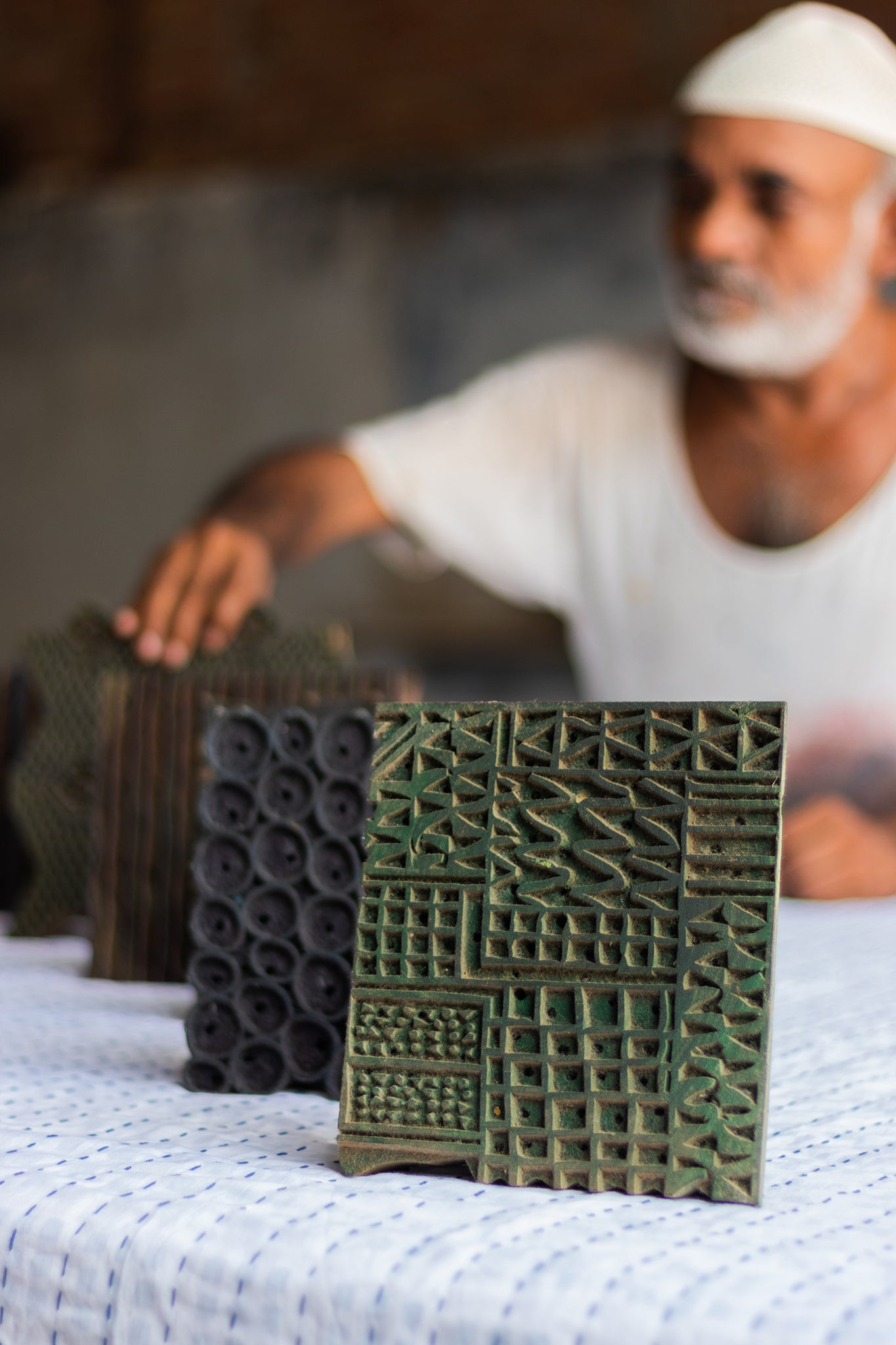 The Block Printing Process
The traditional process of hand block printing on textiles has been practiced in Rajasthan for around 500 years. A print starts with the design, drawn on paper and meticulously carved by hand into the wooden blocks by skilled artisans.